Coming to DrupalCon Prague from near or far? Prague is conveniently accessible via rail and bus lines from all neighbouring countries. Here's some basic information on how to get to the city - and how to get around once you've arrived!
Airport
The Václav Havel Airport Prague (PRG), Prague's main airport, is located in the northwest outskirts of Prague, some 20 kilometres from the city centre.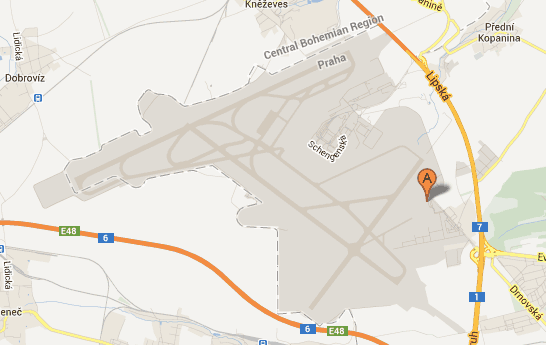 Travel From the Airport to the Congress Centre
You can take Prague's public transit system (Dopravní podnik) for metro trains, trams, and busses from the airport to Prague's city centre. To get to the Congress Centre, you'll want to reach Vyšehrad station, which is the nearest station in walking distance. If you wish to take a cab, we recommend scheduling one through your hotel prior to arriving.
To get here from the airport, exit the airport (walk past the Vodaphone kiosk, after you've picked up your SIM), take a right, and follow signs for Bus Centrium. Purchase a ticket from the ticket machine at the stop, then take Bus 119 to to station Dejvicka (the end of the line). Go down the stairs from the bus stop to enter Dejvicka station, where you can purchase your ticket for 24kc by coin or from the window with cash.
Ride the A metro heading towards Depo Hostivař for 5 stops, until you reach the station Muzeum. Transfer to metro C, going in the direction of Háje for 2 stops, to arrive at Vyšehrad station.
Exit the tram, and follow the signs down the staircase to get to the Corinthia Hotel, or go straight through the doors and across the courtyard to access the Prague Congress Centre or the Holiday Inn. This trip will cost you about €3 and will take roughly an hour.
Travel around the city
Passengers need a valid ticket to travel on the city public transport system The ticket must be stamped as soon as you get on a bus or tram, or enter the transport area (in the case of a metro station). You can find public city transport routes, ticket prices and timetables on www.dpp.cz.
BONUS: We are excited to offer a FREE all-week transit pass to all DrupalCon attendees, which can be used on the Bus, Metro, or Tram. Simply pick up your pass with your badge when registration opens on Sunday, the 22 September.
Please note, all visitors must carry on their person a valid EU ID or passport at all times.
Taxis
Getting around Prague by public transportation is easy and convenient, and the city is very walkable. You you may never need to use a taxi, however if you find that you do, be smart and order a taxi by phone from one of these reliable and courteous taxi companies:
Be sure to confirm the fare ahead of time, as well as what forms of payment your driver will accept and require a a printed receipt for the trip.
Passport & Visa Information
All visitors to the Czech Republic will need a valid passport to enter the country. If you are a citizen of the European Union, the United States, or your country is a party to the Schengen Agreement, you should not need a visa in addition to a passport to enter the country. Be sure to check with your country's consulate to determine if you need a visa to travel to the Czech Republic.
The Drupal Association is happy to issue an official letter of invitation to attendees who require a letter to obtain a visa for travel. If you do need a letter to apply for a visa, we encourage you to request one as early as possible.
Pickup a Czech SIM card
You can pickup a Czech SIM card in the Vodafone kiosk located directly outside Terminal 2 in the Prague airport.
The kiosk is open 07:00-21:00 daily, and accepts both cash and credit cards.
Our top plan pics include: 400kc for 10GB of data or 700 for 10GB of data, and unlimited text and voice
If your phone is not unlocked, you can purchase a smart phone for about 1599kr, which does not include a prepaid package.
You can also make free calls using Skype, Google Talk, or FaceTime, though we recommend using your hotel or the conference's provided wi-fi for this, rather than your data plan.
Travel Apps
If you're looking for a handy app to guide you around the city (or anywhere in Europe for that matter), we recommend using TripAdvisor City Guides.
Available on iPhone, Android, and Windows mobile devices and tablets and includes handy restaurant reviews, walking tours, and sightseeing information. The app is free to download and best of all - works without a data connection!
Jízdní řády (iDNES Journey Planner) is a FREE integrated bus, tram, metro and train timetable. Available on Android and iPhone devices.
For more information on traveling within Prague: