You may have noticed that there is no longer a Community track for DrupalCon Prague. What?! Drupal is built on community! Why are we ignoring it at DrupalCon? That is a good question, and I want to explain how we are making the community side of DrupalCon even better than in the past — by removing the community track from sessions, and instead creating an entire day to focus on community work. Welcome to the Community Summit.
The idea for a whole day of community discussions and work has been percolating for a long time in my mind. (You can read more of my thoughts on this, and other people's comments, in a groups.drupal.org post I wrote last year.) As someone who often presents in the community track, I can tell you that it is a frustrating space to occupy at DrupalCon. While there is a lot of talk about, and love for, community, the bottom line is that very, very few people actually attend community track sessions. I can't tell you how frustrating it is to work very hard on a presentation, get all psyched up to discuss meaningful topics close to your heart, and only have five people show up, out of a conference of thousands. So, to address this issue, we are going to start experimenting to come up with a better plan for tackling community topics at DrupalCon.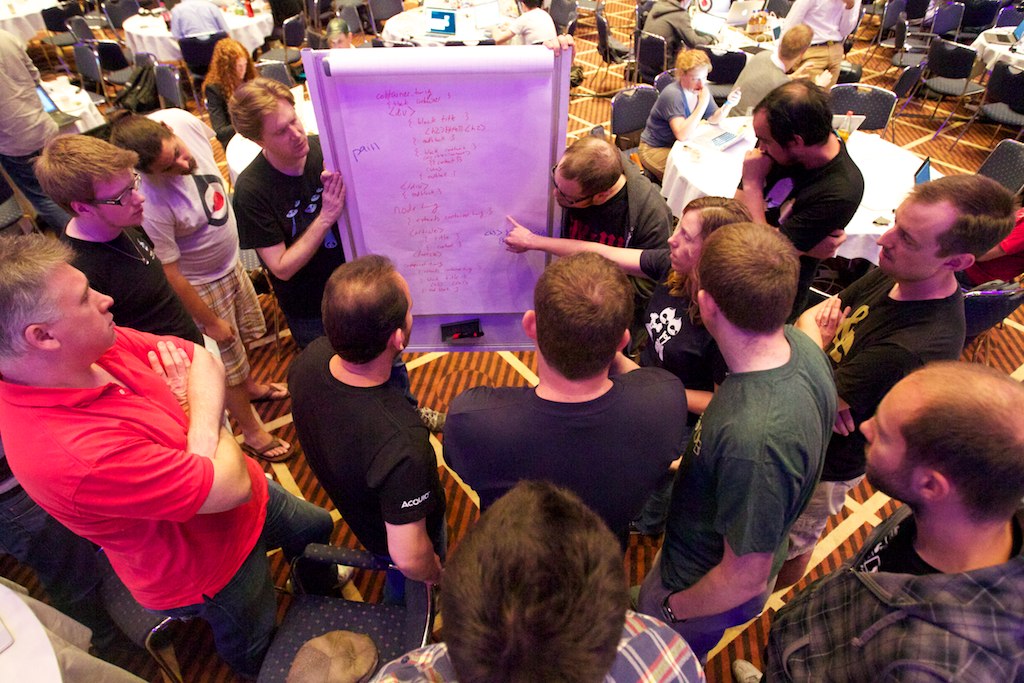 Prague will be the first to try something new. We are excited to have created a full day devoted to just community topics, on the the Monday before the official conference begins. The Community Summit will include a morning of lightning talks on various topics...things that are happening, things that need work, and then the afternoon will be spent in breakout groups tackling community projects in detail. The day is designed to take on a range of topics, which are still being nailed down.
Think along the lines of:
How to help local organizers run better camps and events
Drupal community governance issues and guidelines
How the European community can coordinate and share better
Encouraging and sharing free educational materials within the Drupal community
How to take advantage of Drupal Association grants for community work
These are just some initial topics, but I hope you get the idea. This is a working day designed to tackle real problems we face as a community. There will be limited space, and everyone who attends will actually participate and work on one of the topics presented in the afternoon. We plan to announce the schedule of topics soon, and will open a separate registration for this free event, so look for the link!
In addition to the Community Summit day, we are also going to be encouraging session presenters to incorporate community discussions into their talks. Instead of having one session that tries to point out ways to be involved over the entire breadth of the community, we are looking to provide more relevant community involvement based on the topics people are already interested in. For example, if there is a session on working with Panels, it would make sense, and be more relevant to the attendees, to share how someone can get involved in the Panels groups and work for a module that is important and meaningful to them.
Learn more: Listen to Addi and Mortendk talk Community Summit with Modules Unraveled
We hope you are as excited as we are at this deliberate choice to grow and give greater meaning to a topic that is near and dear to all of hearts, the Drupal community. I'm honored that the community has asked me to help shepherd this change, and I hope that you will join me in exploring a new way of looking at community in DrupalCon. If you have any thoughts, suggestions, or questions, please feel free to reach out to me directly, especially if you have a great topic for the Community Summit that you would like to speak about and lead work on. You can use my Drupal.org contact form, hit me up on Twitter, or ping me in IRC (username add1sun).
- Addison Berry
Community Summit Lead
Image courtesy: Amazee Labs, taken at DrupalCon Munich