The OMG-Drupalcon-is-next-week panic. #DrupalCon

— Carl Wiedemann (@c4rl) September 16, 2013
DrupalCon Prague IS almost here, and we are so excited to be welcoming over 1700 Drupalistas to the beautiful city of Prague. We've put together a couple quick-tips and practical advice to help prepare you for a full-on Drupal filled week.
Pack the right gear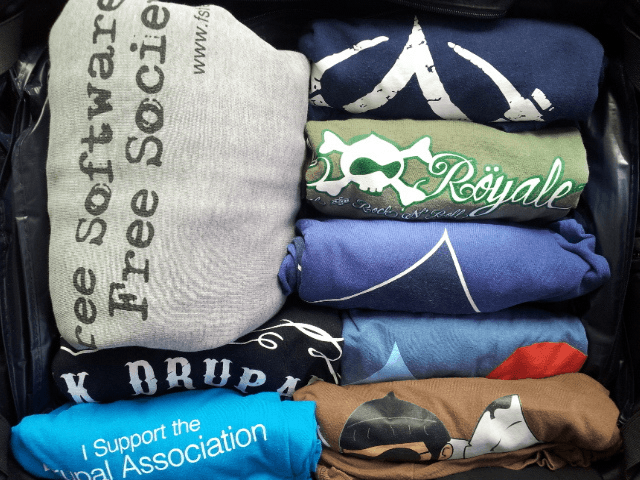 DrupalCon is a great place to collect, and show off your favorite t-shirts
If you're visiting the country, pack a Type E (230 voltage) adaptor, or EU equivalent
Have more tips? Share them in the comments!
Get involved
@drupalcon Go to the sprints. You might think you "don't know enough," but you totally do, and there are mentors on-hand to get you started.

— Angie (@webchick) September 15, 2013
We're looking for sprint mentors to help mentor new contributors and we'll be sprinting all week long on various initiatives in the Supporting Partner Coder Lounge.
Go to BoFs
Wondering how to effectively use CKEditor in #Drupal 8? BoF with the @ckeditor developers at @drupalcon Prague: https://t.co/X2ICgfgLeP

— Wim Leers (@wimleers) August 13, 2013
See what's scheduled or add your BOF to the lineup.
Plan your social events
Calling all women going to #drupalcon Prague. Sign up to attend Women In Drupal Reception, Tues Sept 24 http://t.co/g2kiSiX7NQ #deesondaily

— Deeson Online Labs (@deeson_labs) September 17, 2013
We won't let the fun end at the last session! We have something great planned for each night.
Register before Friday
Late pricing for DrupalCon Prague ends Friday, so if you've waited to buy your ticket, don't wait any longer. After Friday at 23:59 CEST, the price increases to €575.
Prepaid ticket holders and sponsors with coupon codes: save your team the hassle of registering onsite with an unfamiliar laptop. Register online from the comfort of your home or office and arrive to the venue with a freshly printed badge ready and waiting.
T-shirt image courtesy: Steve Purkiss